The 2021 Subaru Love Promise Customer and Community Commitment Award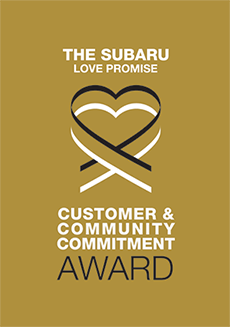 We've been nationally recognized for our dedication to our customers, our community, and the Subaru Love Promise.
We're honored to receive the 2021 Subaru Love Promise Customer and Community Commitment Award. This award nationally recognizes elite Subaru retailers who provide an exceptional customer experience at every interaction with Subaru. These retailers have also demonstrated an outstanding commitment to supporting passions and causes in their local communities in important areas such as the environment, community, health, education, and pets.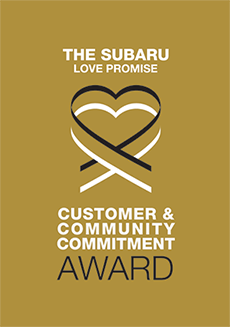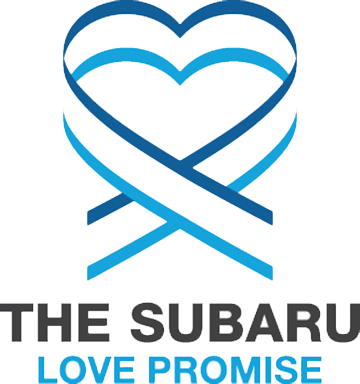 What is the Subaru Love Promise?
Subaru and our retailers believe in making the world a better place and the Subaru Love Promise is our vision of respecting all people. This is our commitment to show love and respect to our customers and to work to make a positive impact in the world.
How is Rafferty Subaru dedicated locally to the Love Promise?
Our Love Promise can be seen in various partnerships with local charities and non-profits. We're grateful for the opportunity, not only to be a part of our community, but to serve it as well.
Cuddle My Kids, CARing for Kids
Love Promise Stories from Rafferty Subaru
Subaru and Rafferty Subaru believe in making a positive impact on the communities in which we live and work. We uphold that belief through our Love Promise Community Commitment. Every month, we select inspiring stories from customers and partners from around our area who strive to support our collective commitment and feature them here
Rafferty Subaru & Andrew L. Hicks, Jr. Foundation - Karen H
The Andrew L. Hicks, Jr. Foundation (ALHjr.org) is so thankful for the generous $25,000 donation as a result of the 2020 Subaru Share the Love Event. The mission of the Andrew L. Hicks, Jr. Foundation is to share the love of Christ by connecting two economically and culturally diverse communities (West Chester and Chester, PA) empowering their youth through mentorship and leadership, and building dynamic futures. Programming begins for Chester youth at 2nd grade with Open Events such as fall carnivals, Christmas Toy Stores, Learn-To-Skate, Tennis Clinics, and Summer Camp; with hundreds of volunteers coming from Chester County high schools! Chester 4th – 6th graders are matched up with Henderson HS students for three years of social mentoring. Next, Chester 7th graders move into the RISE Teen Leadership Development Program and then onto the Launch college and career preparatory program for 9th-12th graders. The Foundation serves over 2,500 students per year and graduated its first 5 Chester students from Launch in 2021. All 5 are going to college in the fall! Rafferty Subaru's contribution supports every level of our programming and greatly encourages our staff.
---
Holiday Partnership! - JOHN C
In 2018 we launched the Greenhouse Project in Chester seeking long term transformation of individuals, families and communities. Our simple approach is to live side by side with the people struggling in order to create a lasting impact. We seek help to break cycles of addiction, abuse and poverty while rebuilding families. But we cannot do this alone, we needed real partners to step to the plate. The Rafferty Family has been there since the beginning to help offer advice and support. Recently in November of 2020, Rafferty Subaru patterned by donating blankets for our Thanksgiving Food outreach. Not only were we able to help families with food, but help those in need with warm blankets. We are so blessed by Rafferty Subaru and their family's values, in seeking to help those struggling in local communities. Can't wait to share all the stories of transformation. Thank you for partnering with us!
---
19 adoptions - including Beauty - despite COVID-19 - Justina C
Every year, Providence Animal Center (PAC), based in Media, PA, hosts adoption events at Rafferty Subaru in Newtown Square, PA. Every year, pet lovers stop by the showroom to meet furry friends. But 2020 proved to be different. How could we have a successful event in a pandemic? Where there's a will, there's a way! Adoptions were pre-booked and no walk-ups were allowed. Masks were required along with 6-foot distancing. Half of the event took place outside, in a covered, heated area. Both the indoor and outdoor locations for the event had a select number of people allowed at any given time. Not only were we able to host a successful adoption event on Oct. 17, we hosted the MOST successful adoption event in PAC-Rafferty event history: in three hours, 19 pets found forever homes, including a 6-month-old puppy named Beauty who was often overlooked in the shelter. A month later, we received the most wonderful happy 'tail' from Beauty's new mom, Jacqueline, who told PAC: "My little "Beauty" was adopted from the Rafferty Subaru Adoption Event. I changed her name to Dottie. She is just wonderful, my best friend, my sweet little baby. Thank you guys at Providence for all the wonderful care you give to all animals." Enclosed, find pictures of Beauty on her adoption day and happy with her forever mom, enjoying daily adventures.
---
Rafferty Subaru Caring for the Local Community - Agnes B
As the president of the local Highland Park Kirklyn Association we are always looking for businesses to partner with us to help our neighbors in needs. In November Rafferty Subaru has worked with our group to get coats to children in need. Rafferty also donated books for the children which uplifted the children to own their own story books. In December Rafferty Subaru employees created a toy drive where children who were then treated to a brunch with Santa. Each child received the toy of their choice plus a warm meal, games and face painting. As a neighborhood civic group donors are so important and Rafferty Subaru is one business we can count on. Bob Rafferty. Kevin and Bobby Rafferty are always ready to help out those in need. In addition to these events for children, Rafferty has helped our group reach out to homeless veterans by donating items to fill backpacks with items such as shampoo, tissues and other personal items.
---
Rafferty Subaru Loves to Care (7/8/19) - Kyrsten K
On July 8th the LLS Eastern Pennsylvania Chapter and Rafferty Subaru had the pleasure of delivering 80 blankets and 50 arts & craft kits to Paoli Hospital as part of the Subaru Loves To Care program. These comforting gifts were accompanied by personalized messages of hope written by the customers and staff of Rafferty Subaru. This incredible act of generosity was warmly received by the Paoli Hospital staff who were thrilled to distribute these comforting gifts to their patients. Many thanks to everyone at Rafferty Subaru and Paoli Hospital not only for a memorable day, but for supporting LLS's mission to cure blood cancers and improve the quality of life of patients and their families.
---
Bringing Hope Home HOPE Mobile - Karen K
Bringing Hope Home is a non-profit organization that provides Unexpected Amazingness to Families battling cancer through financial and emotional support. Through our Light of Hope Family Grant Program, we directly pay household bills to ensure our Families are able to stay in their homes, with a roof over their heads, utilities on, phones working, and food on the table. We are proud to have Rafferty Subaru as our HOPE Mobile sponsor. As part of the Subaru Loves to Care Program, our new HOPE mobile helps us transport gifts for our Families during the Bringing Hope Home's Adopt-A-Family Program over the holidays, is on-site during our community events to reflect our combined partnership and brand, as well as driving down the road! Thank you to the Rafferty Family and Rafferty Subaru Dealership for your support and being a part of HOPE Nation!
---
Providence Animal Center partners with Rafferty Su - Joseph M
Rafferty Subaru is proud to support Providence AnimalCenter as one of their charities during the "Share The Love" event during the 2018 holiday season from November 15, 2018, to January 2, 2019. To kick-off the "Share The Love" event at Rafferty, the dealership wanted to promote awareness of homeless and abandoned animals by hosting an adoption event for Providence at their dealership on November 17, 2018. Raffertydonated all adoption fees for the animals adopted on the 17th. During the Share The Love, customers who purchase a new Subaru have the choice of donating to one of the national charities and one of the local area charities selected by Rafferty Subaru. The Rafferty Dealership and family truly believes that when 'we share love, we all win.' That is why Rafferty has participated annually in "Share The Love" events over the past 10 years. The Subaru dealership won the 2018 Subaru Love Promise Customer and Community Commitment Award and is nationally recognized for their dedication to customers, their community, and to the Subaru Love Promise. As a participating retailer, Rafferty helped donate more than $118 million to charity, with customers choosing between four national foundations and two local foundations. For the past three years, Rafferty chose Providence Animal Center as one of their local charities to donate. Subaru of America is targeting to bring that total to over $140 million, proving there's no limit to the amount of love we can all share, and Rafferty right there with them. About Rafferty Subaru Dealership: Founded in 1977, Rafferty Subaru is proud to serve Philadelphia with quality Subaru vehicles. Rafferty Subaru is a dealership in Newtown Square, PA that believes in personalized and courteous service for all of our customers. Our professional staff assists customers from all over 2 of 2 the region including those in Newtown Square, Wilmington, and Limerick, PA. We know that customers are seeking a dealership that provides a full range of services and inventory along with a friendly staff that will listen to a client's needs and does their best in assisting. We strive for excellence. Come in and let us show you what we can do for you! Visit our website:RaffertySubaru.com or contact us at 888-914-8767.About The Providence Animal Center: At Providence Animal Center, we offer life-affirming rescue, medical care, treatment, protection and placement of companion animals that forever uphold the critical importance of the human-animal bond. We have an unwavering commitment to this mission and will always strive to deliver the most optimal, advanced care to our animal friends – and their owners. Simply put, Providence Animal Center is Lifesaving. Adoption. Wellness. Community.
---
Rafferty Subaru Loves to Care Paoli Hospital! - Jenn P
The Leukemia & Lymphoma Society (LLS) of Eastern PA and Rafferty Subaru of Newtown Square, PA joined together on July 12, 2018 to share love, comfort and warmth through blankets for cancer treatment patients at Paoli Hospital in Paoli, PA. For Bob Rafferty, Rafferty Subaru General Manager, Subaru's Love to Care mission was personal, as his sister is a blood cancer survivor. Both of them along with LLS staff and Paoli Hospital personnel shared the joy of helping cancer treatment patients. The Subaru blankets were given to Paoli Hospital personnel, who will distribute them out to patients.
---
PACT for Animals - Judi G
PACT for Animals is a 501(c) 3. PACT Volunteers step up to offer long-term temporary foster care from a month to as long as two years at no charge. Foster care is available to our brave men and women going on active deployment and families with serious medical emergencies requiring long-term hospital care. PACT is there when there is no other choice other than surrender to a shelter. From newborns to seniors, PACT for Animals is there to keep their companions out of harm's way until the emergency has past and they can be reunited with their beloved "kids". The advancement of the human/animal bond, which is PACT's mission, creates extended families at almost every PACT reunion when these families are able to be reunited, two legged and four legged. There is never a dry eye at these reunions. Buzz Miller, learned that many soldiers were forced to surrender their pets to area shelters, before leaving on deployment from Major General John Gronski. Many in his command were leaving for dangerous areas around the world volunteering to serve their Country. Sadly, no animal welfare group was available on a volunteer basis to offer foster care for their "best friends", when all avenues for foster care had fallen through right before reporting for duty. Soldiers who volunteer to serve in the Armed Forces should not be faced with collateral damage as a trade off in service to our Country. PACT was founded to offer safe havens. PACT for Animals offers long term temporary foster care for families that find out, in their eleventh hour that all avenues for foster care have fallen through with their only choice, surrender to a shelter never to see them again. PACT volunteers open their hearts and their homes to companion pets to keep them out of harm's way until they can be reunited with their families. The emotional value of pledging to foster companion pets for families, who are desperate to keep them out of harm's way until they can be reunited, is priceless. Visit PACT's website: PACTforAnimals.org or PACT for Animals on YouTube to watch some reunions and see how you can volunteer in a variety of ways or foster. When choosing a vehicle to pick up and drop off companion pets, Buzz Miller, founder of PACT for Animals' only choice was purchasing a Subaru from Rafferty Subaru in Newtown Square, PA because of a donation earmarked to PACT for a new vehicle to transport animals.
---
Rafferty Subaru & Paolo Hospital Loves To Care - Monique R
Rafferty Subaru of Newtown Square, PA along with The Leukemia & Lymphoma Society (LLS) of Eastern PA delivered blankets to Paoli Hospital in Paoli, PA on July 12, 2017. As part of the Subaru Loves to Care Program, the blankets will be given to cancer patients in treatment at Paoli Hospital to bring them warmth, hope and light into their day. Paoli Hospital was very happy to receive the Subaru Blankets every year and said that LLS is a wonderful organization. The 80 blankets were received by hospital personnel and will be given to the patients by the hospital. Thank you Rafferty Subaru, Paoli Hospital and to LLS for helping bring light into a cancer patient's day!
---
Subaru Loves Dogs! - Kevin T
We're Extremely excited to announce that our video, Driving shelters dogs in cars was featured on an episode of the nationally televised program. We teamed up with our friends at 6 ABC to give the lovable pups from Providence Animal Center and Main Line Animal Rescue, who are waiting to find their forever homes, a day to remember. We have been teaming up with Main Line Animal Rescue for almost half a Decade and have helped save a countless amount of animals including Kevin Rafferty own dog Matty that has been with him for almost a year now! As Our Love Promise to our Local Shelter we have also had adoption animals here in the Showroom to be Adopted from time to time. Dogs loves a nice car ride, which is why we at Rafferty Subaru decided it would be fun to take some of the area local shelter dogs on a chauffeured trip around town in a brand new Outback. Mosby, Daisy, Meggie and few other friends enjoyed a day out on the town in style with the wind in the hair. Don't forget to check out our heartwarming series Driving Shelter Dogs in cars on right this Minute! http://www.rightthisminute.com/video/rtmtv-shelter-dogs-star-heartwarming-car-commercial The reason why we thought it was necessary to air this is to create awareness for our fury little/big friends to reach as many people as they all deserve to be in a "Fur"ever home. Here at Rafferty Subaru its no customer leave unhappy and no dogs left without a Forever home.
---
Subaru Loves Learning Book Drive August 1 - 31 - Danielle S
Join us in our Subaru Loves Learning initiative during the month of August! We are partnering with the American Association for the Advancement of Science (AAAS) in donating science books to Paxon Hollow Middle School and Marple Newtown High School in the Marple Newtown School District. All of the books that will be donated have been recognized by AAAS as some of the best science books in their field. Contact us to learn more information.
---
Subaru Loves the Earth - E-Waste Event - Danielle S
We would like to thank our customers for participating in our E Waste Recycling event during the month of April. With your help, we were able to prevent 12,497 lbs of carbon emissions from polluting the atmosphere. This is equivalent to saving 479 trees, 2,125 gallons of gasoline, 18,117 plastic bottles, and 83,334 aluminum cans. Thank you for helping strengthen the Subaru Love Promise!
---
April 1-30, 2015 - E-Waste Recycling Event - Molly M
Throughout the month of April, we are hosting an E-Waste Recycling Event in our store to collect unwanted electronics. We've arranged to work with a company who will responsibly collect, re-purpose, and recycle your electronic waste . Help us protect our environment. Just show up with your E-Waste and we'll do the rest! The first 50 customers who contribute will receive a complementary environmental badge of ownership. We will accept: LCD Monitors, Cell Phones, Laptops, Tablets, CRT's up to 40 inches, Video Games/Consoles, Fax Machines, DVD/VCR Players, Printers, Computer Peripherals, Switches/Routers, Cords and Wires.
---
Rafferty Subaru supports MLAR - Nicole S
Rafferty Subaru has worked with MLAR for the last 3 years to place animals. MLAR brings in their animals, cats and dogs to the dealership. There are ones that are available for adoption as well as ones that have already been rescued. The animals spend the day in the showroom while the volunteers give information to staff and customers about the adoption process and information about how else a person can help; such as donations of food, blankets and money. This pass November when MLAR came to visit it was a dreary, rainy Saturday morning. The dogs and cats helped bring in sunshine and fun. There is nothing better than holding a puppy that is so excited to be loved. There was face licking and kisses and barks and meows filling the air. Animal Planet sent us doggie flashlights and collapsible water bowls, as well as magnets and doggie liter bags to give away. It was a time for old friends that had meet at previous events to get together and share stories of the amazing things their dogs and cats do. (which they all said how much the animals love Subaru).
---
Rafferty Subaru Hosts An Event With "Main Line Animal Rescue" - Mackenzie E
It was a dreary Saturday morning on November 1st. Luckily inside Rafferty Subaru it was warm and there was a fun event. Mainline Animal Rescue brought cats and dogs to visit. They came hoping to find a new "fur"ever home to go to. It was wonderful seeing all the animals and having the customers get to pet and play with them. Customers brought in their rescue dogs to visit us too! For a little history about MLAR please click the link: http://www.mainlinerescue.com/about We here at Rafferty love spending time with all the animals and the wonderful volunteers. Don't forget to check their websites for all the adorable adoptable animals. See you next time!!
---
Auto Dealers CARing for Kids Foundation - Jessica P
Auto Dealers CARing for Kids Foundation is a charity to works with local PA auto dealers to secure new winter coats for children in the Delaware Valley. During the month of September, for every vehicle that was sold at Rafferty Subaru a new winter was donated. The program has been in effect since 2008 and has donated a total of 177,858 coats. This year the grand total was 37,606. Rafferty was instrumental in donating 175 of those coats, which went to the Partners in Outreach charity. During the month, Rafferty's showroom becomes covered in little "Bobby's and Cindy's". These are the children that were behind the forming of the foundation. Each customer who buys a vehicle signs one of the "Bobby's or Cindy's" to hang in the showroom. The customers found this a wonderful addition to their purchase of the new vehicle! Next year we are hoping to increase the number so more children will recieve coats to help keep them warm and have a new piece of clothing that they can be proud of!
---
Rafferty Subaru Participates in Auto Dealers CARing for Kids Foundation - Maryanne P
Partners in Outreach is a non-profit organization whose mission is to provide compassion in moments of need; recognizing opportunities, and inspiring both those who give and those who receive. They work to bring together people that need help with people that are able to give help. Sometimes it is as simple as a book, or as wonderful as a new Easter outfit. Rafferty Subaru is part of Auto Dealers CARing for Kids Foundation. During the month of September for every car we sell we donate a new winter coat. We were able to donate 175 winter coats this year to Partners in Outreach so that they are able to donate them throughout Chester County PA. 175 children will be able to focus more on their education because they are not going to be worried about being cold.
---