Last week, Rafferty Subaru presented two checks to two local foundations as part of Subaru's commitment to giving back to organizations that have positive influences in our communities. Both donations were given as part of Rafferty Subaru's annual participation in the Love Promise Community Commitment program.
The first check for $21,487 was presented to Partners in Outreach on May 9. This organization focuses on creating relationships and providing opportunities to individuals and communities. Through a variety of annual events and programs, Partners in Outreach collects donations and supplies for neighborhoods with fewer or limited resources. Ranging from school supplies to clothing to gear for summer camp, these goods are used to connect communities that have resources to those that do not and generate more opportunities for success for individuals throughout the entire Philadelphia area.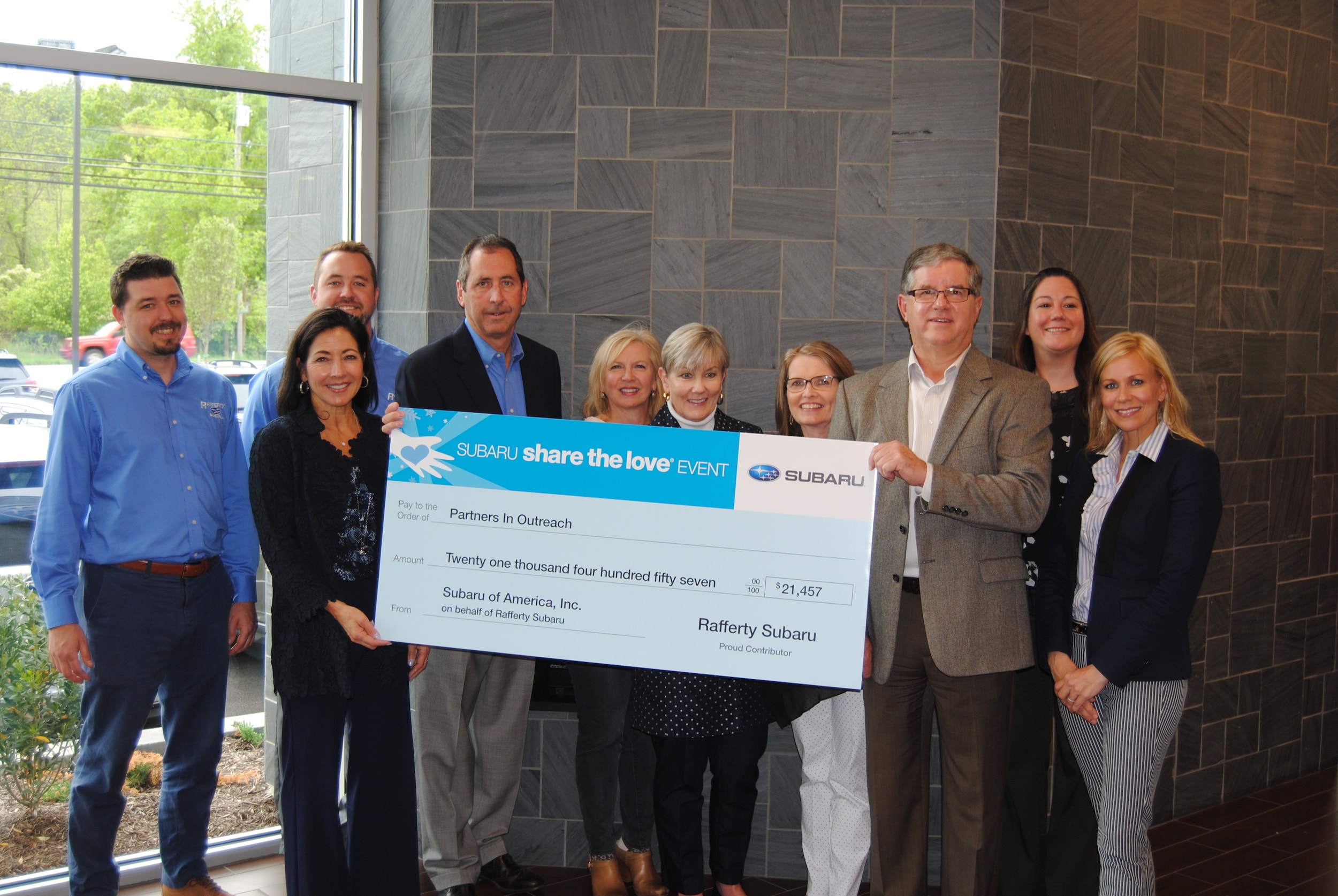 The people in the photo are as follows (from left to right):
Joe Montoro (Rafferty)
Maryanne Parsons (president/founder of Partners in Outreach)
Bobby Rafferty (Rafferty Subaru)
Bob Rafferty (Rafferty Subaru)
Lisa Lutza (Partners in Outreach summer camp program coordinator)
Barb Quin and Susan Lamb (Partners in Outreach Operation Easter outfit coordinators)
Larry Morgan (Partners in Outreach treasurer)
Nicole and Lisa Parsons (Partners in Outreach Classroom Reading Partners Coordinator)
On the same day, Rafferty Subaru also presented a check for $19,298 to the Leukemia and Lymphoma Society (LLS) of Eastern Pennsylvania. As part of the largest organization dedicated to finding a cure to blood cancers, the LLS spearheads countless fundraisers and research projects that go towards finding a cure for these diseases. Not only does this non-profit work tirelessly to discover new and effective treatment options for individuals fighting these illnesses, but they also strive to improve the quality of life for the patients, family and friends going through treatment as well as raise awareness about these diseases.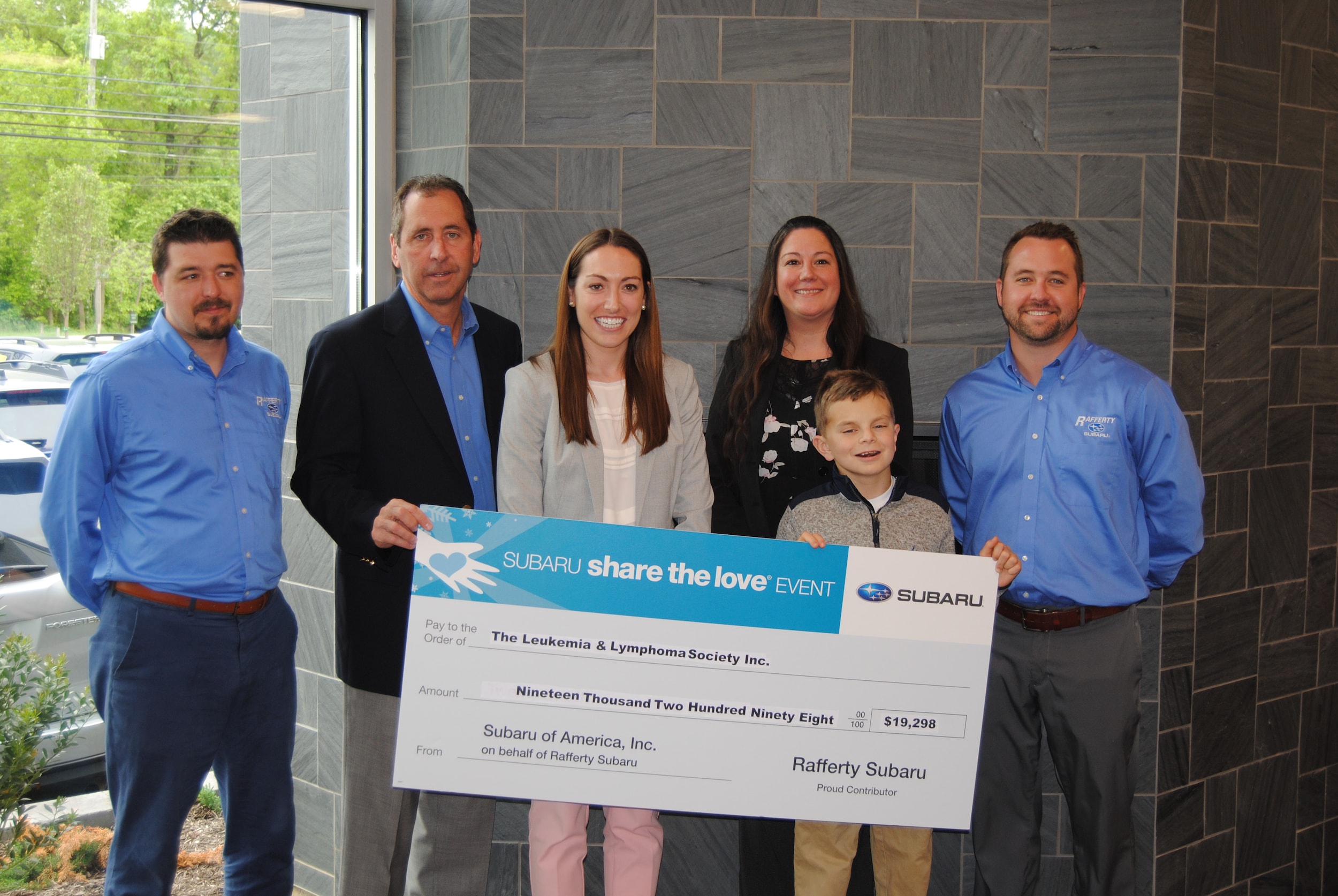 The people in the photo are as follows (from left to right):
Joe Montoro (Rafferty Subaru)
Bob Rafferty (Rafferty Subaru)
Nicole Spadea (Subaru)
Matthew Hauser (LLS)
Kyrsten Kamlowsky (LLS)
Bobby Rafferty (Rafferty Subaru)
The Share the Love Event is part of Subaru's Love Promise in which we make it our mission to have positive and respectful interactions not only with our customers, but also in the communities where they live, every day. At Rafferty Subaru, our goal is to build lasting and meaningful relationships through exemplary customer service, as well as set a positive example in our communities by exhibiting a sense of compassion, kindness and respect towards all the people we serve. We hope that through these actions, we can demonstrate that we are not simply a car company, but an organization invested in the happiness and well-being of the neighborhoods around us.
We are truly confident that these two organizations will continued perform exemplary work in the Philadelphia area and are pleased to have had the opportunity to contribute to their efforts last week.