Few things in life are more nerve-wracking than deciding which car to purchase. Once the decision has been made and the financials checked, the real work begins. When deciding what size car is best, it's important to take into account the needs of the driver, such as family size, commute time, and whether the vehicle will be used for city vs. highway driving. For many, a mid-size vehicle is a logical choice. Mid-size vehicles are typically large enough to accommodate a family, while also compact enough to allow for easy maneuvering, especially important for those who live in urban areas. Mid-size cars also tend to get better gas mileage than a larger vehicle.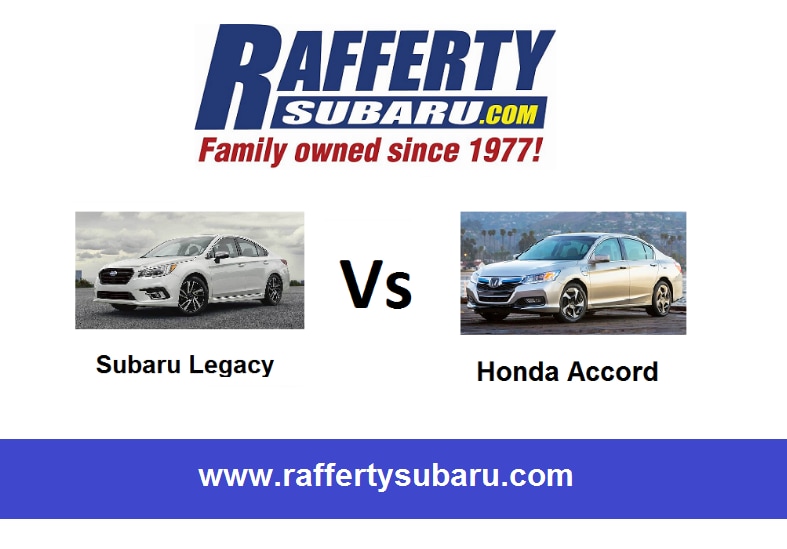 When comparing stats, it can be difficult to know what to look for, as different vehicles will score well in different areas. However, there are a few specific areas that are important to focus on. For instance, fuel economy, interior and cargo space, and safety and handling are all important specs to keep in mind when searching for and comparing vehicles.
Two of the top-rated mid-size cars are the Honda Accord and the Subaru Legacy. Though the two are similar in size, they vary in the specifics. While the Honda Accord has a slightly longer and wider frame, the Subaru Legacy has a bit more height to it than the Accord. The Accord has an advantage over the Legacy when it comes to fuel economy, but the Legacy has a larger tank volume, 18.5 gals to the Accord's 14.8. Both the Legacy and the Accord feature roomy, 5-passenger cabins and ample trunk space. However, the Legacy also has excellent visibility thanks to the slim roof pillars.
When it comes to driving the Legacy vs. the Accord, there really is no contest. The Accord comes with front-wheel drive, while the Legacy is equipped with standard all-wheel drive. This means more traction and stability, especially for those who are driving in colder, wetter climates. Typically, someone who is looking for standard all-wheel drive would have to upgrade to an SUV, so it is unique to find this feature in a mid-size model.
Both the Legacy and the Accord have decent technology packages as well, although the Legacy gets extra points for having more intuitive integration. On the Accord, voice commands are not always functional and often manual controls are necessary. Additionally, the frontal collision mitigation and lane keeping assist comes standard in every Legacy, which is a nice added bonus.