With the cargo room of an SUV in the body of a wagon, the Subaru Outback is a perfect vehicle for work and play. With a cargo space of 35.5 ft³, or 73.3 ft³ including the seating area, you can easily go from running errands around town to packing up the trunk and heading off to your next adventure.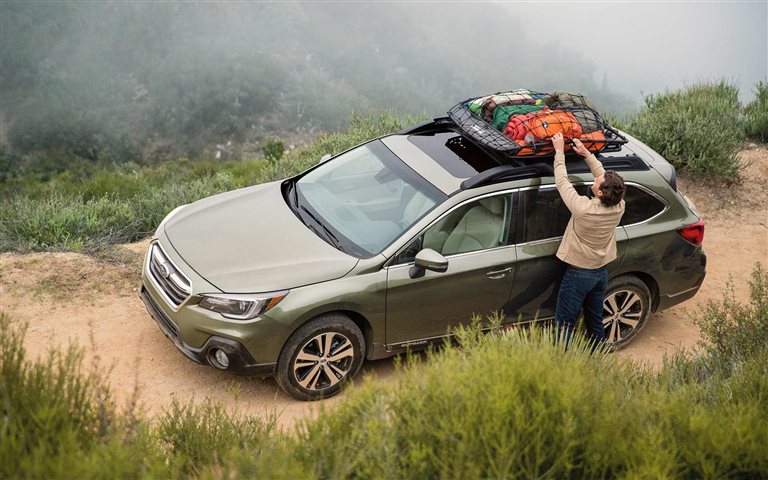 So just how much room does the Subaru Outback cargo space have?
The Outback is a versatile and comfortable vehicle with tons of room to help you live your life, however, you want to do it. Boasting ample capacity, the Subaru Outback cargo space lets you transition seamlessly from bulk-buy grocery runs to packing up everything but the kitchen sink and heading out for a weekend in the mountains.
During the week, life can quickly become hum-drum. Between commuting, getting the kids to school, and running errands in the precious moments of time that you have to yourself, it just seems like there isn't enough time in the day.
With the Subaru Outback cargo area, life gets just a little bit easier. Pick up eggs, milk, and that 50 lb bag of dog food on your way to collect the kids from sports practice. Load the kids (and their one friend who never has a ride) into the back seat and toss book bags, soccer cleats, and baseball bats into the trunk. On the way home, you realize that you only have milk and eggs (well, and dog food) for dinner, so you swing by the local pizza parlor. Per usual, no one can agree so you end up stacking four large pizzas in the back of the trunk, strategically placed an equal distance from the muddy cleats and the precariously balanced dog food bag. The pizzas make it home safely and you've successfully fit another full day into your Outback.
When the weekend hits, the Outback transforms into an all-purpose vehicle. From hauling the kids back and forth from sports games to helping a friend move, the Subaru Outback has the versatility to tackle it all. You can finally make that trip to the home furnishing store that you have been putting off for so long. On the list: a new sofa, a bookshelf, and a new bed. Thanks to the Subaru Outback cargo area, you have plenty of room without the hassle of renting or borrowing a larger vehicle. After unpacking the car, you can load it back up again to prepare for a weekend out of town. Two coolers, sleeping bags, tents, suitcases. The list goes on and on, and in the end, there is still enough room for the dog to jump in the back before you close the trunk.
So what exactly can you fit inside a Subaru Outback??
?Your life, and everything that comes along with it.

Happy trails!