Sport utility vehicles are one of the most popular options for consumers these days. The models have become sleeker and more streamlined over time, making them elegant as well as functional. As far as driving goes, an SUV is sporty enough to zip around town but has extra storage space and a roomy interior that makes longer trips pleasant as well. With more trunk capacity and higher clearance than a standard wagon, the SUV is a great choice for anyone who is looking for sportiness and functionality.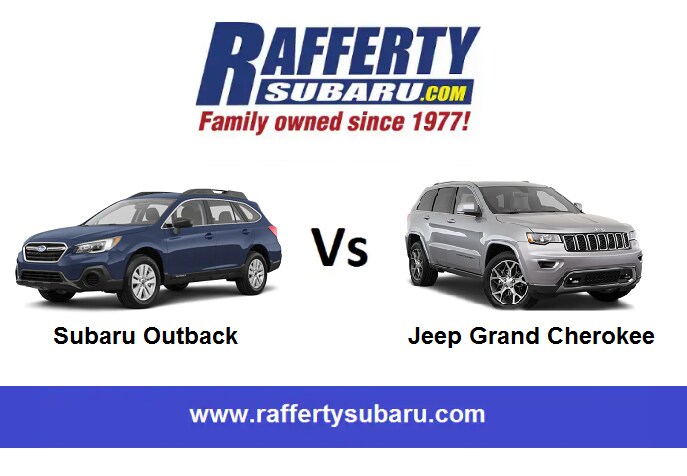 Two of the most popular sport utility models on the market at the moment are the Subaru Outback and the Jeep Grand Cherokee. Although both SUVs have attractive qualities, there are noticeable differences between the two that make the Outback the clear winner. With a lower MSRP and better fuel efficiency than the Grand Cherokee, Subaru's popular SUV makes good financial sense. In addition, the Subaru Legacy comes equipped with a lot of standard safety features and also has a five-star safety rating that the Grand Cherokee simply can't compete with.
While the Grand Cherokee is a bit larger overall than the Outback, it also weighs considerably more, and in terms of fuel economy lags behind the Outback with a combined fuel economy estimated at 21 MPG to the Outback's 28 MPG. The Outback also has slightly more ground clearance as well as all-wheel drive, something to keep in mind on uneven or rocky terrain. Because it's slightly larger than the Outback, the Grand Cherokee has a bit of an advantage in interior dimensions. However, the Outback has extra space where it counts: front legroom. Additionally, the Outback has more seat-down cargo space than the Grand Cherokee, making it ideal for hauling large loads.
One area in which the Outback outperforms the Grand Cherokee is safety. Both vehicles come equipped with brake assist and electronic stability control, but only the Grand Cherokee offers a blind spot monitor as part of its standard package. However, with excellent safety ratings and a long list of standard safety features the Outback easily outpaces the Grand Cherokee, which has aged safety scores and lacks some of the more advanced features that the Outback offers, like lane departure warning and lane keeping assist. Although the Grand Cherokee does sport a V-6 engine and has more overall power and torque than the Outback, the lack of safety information and features make it somewhat less attractive than the Subaru.
While both the Jeep Grand Cherokee and the Subaru Outback are good options in the sport utility class, the Outback offers more safety features than the Grand Cherokee and has more space where it counts in areas like cargo and legroom. With a huge advantage in fuel economy and standard all-wheel drive, the Outback is a leader in its class and an excellent choice for a multi-functional vehicle that can easily make the transition from weekday to weekend.