Even though more and more people seem to be gravitating towards multi-functional vehicles like SUVs or crossovers, the sedan still has a solid hold on the auto market. Mid-size sedans are still relatively affordable, and a lot of them come with some great features like fuel economy, high safety standards and sleek, attractive exteriors that make them appealing to consumers of all ages. While a larger vehicle may make sense for some, factors like rising gas prices and longer commute times mean that more people are searching for comfort and fuel efficiency in their vehicles. Additionally, many manufacturers are making comfort and technology more of a priority even on basic models.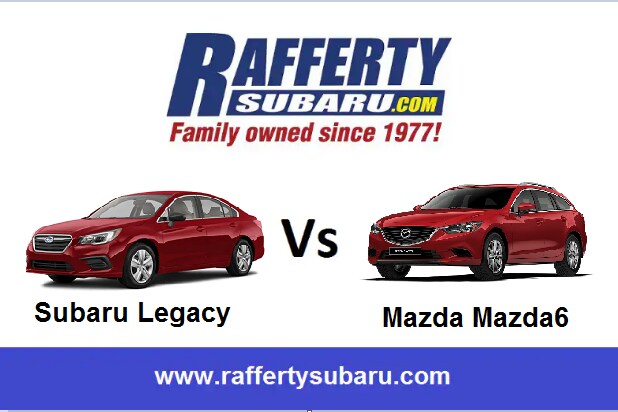 The Subaru Legacy is a great mid-size vehicle that comes with all-wheel drive and standard features such as a back-up camera and keyless entry. It's a popular model that stands up well under scrutiny. Compared with a similar car in the same class the Legacy wins in categories such as safety and technology.
The Mazda6, like the Legacy, is a mid-size sedan with a sleek look that is ideal for maneuvering around the city or commuting to work. However, while the Mazda6 has a lot of great features, many of them are only available in premium packages that cost extra on top of the base price. The Legacy, on the other hand, offers several features that come standard.
When it comes to safety, both cars are highly rated for their standard features, but the Subaru Legacy comes out ahead by providing EyeSight Driver Assist Technology as a standard feature on all Legacy models. This driver assist package includes stellar safety features like adaptive cruise control, pre-collision braking, and lane keeping assist. The Mazda6 loses points in this category for offering almost no standard options, even though it's priced higher than the Legacy. When it comes to technology, the Legacy beats out the Mazda6 as well. The Subaru Legacy comes equipped with Apple CarPlay and Android Auto for smartphone integration options, as well as standard satellite radio.
Although the Mazda6 has more horsepower, and a slight advantage in fuel economy over the Legacy (35 MPG vs 34 MPG), the Legacy boasts a larger tank with a volume of 18.5 gallons to Mazda6's 16.4 gallons. The Mazda6 is a slightly larger car model than the Legacy, with a wider wheel base and more length overall. However, the Legacy comes in a standard all-wheel drive that the Mazda6 doesn't have, meaning that it has the advantage of added safety when driving on slippery roads or in poor weather conditions.
While the Mazda6 has a more luxurious interior and is able to mimic the appearance of more expensive cars, it falls short in areas that really count, like safety and standard features. The Subaru Legacy is a functional and fuel-efficient mid-size car that offers some excellent standard safety features and comes equipped with AWD and smartphone integration. At an affordable price, it's a smart option for an everyday vehicle.